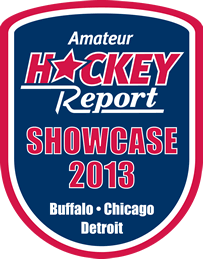 2013 AHR HOCKEY SHOWCASE




"NORTH AMERICA'S MOST ELITE HOCKEY SHOWCASE"


Presented by: AMATEUR HOCKEY REPORT
formerly "EHK Sports Pre-Draft Showcase"
TIME FOR A CHANGE:
For the past 12 years EHK Sports has had one of the most successful exposure events in North America; the Pre-Draft Showcase. For 2013 we have changed the format to better serve the players and help send even more players to the junior ranks and boost our 62% success rate higher. The event will be called the AHR Hockey Showcase powered by Amateur Hockey Report; the largest and best scouting service in hockey today. AHR has emerged as the best source for scouting information on North America's best hockey prospects. With over 8,500 player profiles containing vitals information, draft status, a potential rating and most importantly dated and filed scouting reports from events all over North America; there is no better way to find the best players. Attend the AHR Hockey Showcase and count yourself among the privileged few to receive a profile on our website for every junior and college coach to see.
Each event will allow for 130 players to participate

Players will be placed on one of 6 teams in each event
Each team will have 4 games; 50 minutes long
Friday: each team will play two games
Saturday: each team will play two games
All players will receive an EHK/AHR jersey to keep
All players will receive equal and abundant ice time to display their talents
All players will receive a profile on Amateur Hockey Report; #1 Hockey Scouting Service
EHK Sports has held twelve hockey showcases, attended by 3,232 participants of which, 2,869 were drafted by Junior teams, of those 2,001 will be playing for the Junior team that drafted them. That means 88% of the players that attended an EHK Sports hockey showcase were drafted and 62% are playing at the next level. That is the best success rate of any hockey showcase in the United States.
**If sending registration by mail please note our new address:
200 Fairway Dr, Ste-212
Vernon Hills, IL 60061
ALUMNI LIST includes thousands of players who went on to Juniors and above!! (Updated 2/6/12)
Times are tough and we understand that; so we lowered the price for 2013 back to 2006 pricing!!
$300 before March 1, 2013
$350 after March 1, 2013

Discount Program

2 events - $550 (save $50)
3 events - $750 (save $150)

Buffalo, NY
'93-'98 Boys Event
April 12-13, 2013
Northtown Center at Amherst, Amherst, NY

Schedule | Rosters


REGISTER ONLINE NOW!!

Brochure/Written Application (pdf)

Detroit, MI
'93-'98 Boys Event
April 19-21, 2013
Arctic Edge, Canton, MI

Chicago, IL
'93-'98 Boys Event
April 26-27, 2013
Twin Rinks, Buffalo Grove, IL
Scouts Attending Boys Event:

Aberdeen (NAHL)
Alaska (NAHL)
Alexandria (NAHL)
Austin (NAHL)
Battle Creek (NA3HL)
Bismarck (NAHL)
Boston (AtJHL)
Boston (MetJHL)
Buffalo (OJHL)
Buffalo (ESHL)
Capital District (EJHL)
Carleton Place (CCHL)
Central Wisconsin (GLJHL)
Chicago (USHL)
Chicago (NAHL)
Chicago (GLJHL)
Cleveland (NA3HL)
Corpus Cristi (NAHL)
Coulee Region (NAHL)
Dells (MnJHL)
Des Moines (USHL)
Edina (MnJHL)
Elliott Lake (GMHL)
Eugene (NORPAC)
Fairbanks (NAHL)
Flint (NA3HL)
Florida (EJHL South)
Fort Wayne (GLJHL)
Fresno (NAHL)
Gilette (AWHL)
Grantie City (NA3HL)
Helena (AWHL)
Indiana (USHL)
Indianpolis (GLJHL)
Jamestown (NAHL)
Janesville (NAHL)
Kalmazoo (NAHL)
Laconia (AtJHL)

Scouts Continued:

Laconia (MetJHL)
Lake Forest College (Div-3)
Lawrence University (Div-3)
Maple Grove (MnJHL)
Marian College (Div-3)
Mass (ESHL)
Metro (NA3HL)
Michigan (NA3HL)
Minnesota (MnJHL)
Minnesota (NA3HL)
Minot (NAHL)
Motor City (GLJHL)
MSOE (Div-3)
North Iowa (NA3HL)
Omaha (USHL)
Orangeville (GMHL)
Pembrooke (CCHL)
Peoria (NA3HL)
Pittsburgh (NA3HL)
Philadelphia (AtJHL)
Port Huron (NAHL)
Quad City (NA3HL)
Queen City (NA3HL)
Rochester (MnJHL)
Sioux Falls (USHL)
South Oregon (NORPAC)
Springfield (NAHL)
St. Louis (NAHL)
St. Louis (NA3HL)
Texas (NAHL)
Toledo (NA3HL)
Topeka (NAHL)
Tri-City (USHL)
Tri-City (GLJHL)
Twin City (NA3HL)
Twin Cities (MnJHL)
Wisconsin (GLJHL)
More being added each week
ALUMNI LIST includes thousands of players who went on to Juniors and above!! (Updated 2/6/12)
What participating in an AHR Hockey Showcase can do for you:
Provide the athlete to compete in a high-intensity environment with other similarly goaled individuals.

Provide exposure across ALL levels of the hockey spectrum including Professional, Collegiate, Junior, Midget/Prep levels. Agents/advisors included.

We are impartial promoters. We are not paid by any team to point players in any direction.

Our player promotion does not stop following the completion of the hockey showcase. We continue to speak to numerous coaches, agents, managers, etc. from across North America in an effort to help fill specific needs requested by these parties.

You will compete against players from all over the world. This season will see players from the UK, Canada, Japan, Sweden, Russia and Germany compete at the event.

Allows you to be the player YOU want to be. You are free to play the type of game you want to play, no roles assigned.

Every player gets equal billing. Nine forwards, five defenseman, and two goalies per team – Maximum Ice Available.
Detailed player information provided to each and every scout in attendance.

Scout room for those in attendance.

No admission charge to watch games for anyone. Period.

Hockey Showcase review of the top players having participated by scouts and AmateurHockeyReport.com scouts in attendance.

A proven track record of helping ALL players, not just high profile players. We have made an art of finding players from non-traditional hockey markets and promoting them via the Hockey Showcase vehicle.

EHK Sports has held twelve hockey showcases, attended by 3,232 participants of which, 2,869 were drafted by Junior teams, of those 2,001 will be playing for the Junior team that drafted them. That means 88% of the players that attended an EHK Sports hockey showcase were drafted and 62% are playing at the next level. That is the best success rate of any hockey showcase in the United States.

A chance to showcase your talents and discuss your ambitions with the coaches and scouts. We encourage players to approach program representatives in attendance and ask questions. It is an open forum for players and scouts alike.

Media table to collect information of programs.

Four games in three days = ensures intensity and conditioning is addressed.

A collective staff working tirelessly to ensure that our events are the PREMIER hockey showcase events of their kind in the country.

Media vehicles (EHK Sports family of websites) to promote our participants at the hockey showcase.

Scouts have limited time and funds – they will go where they can get the most bang for their budget dollar. Every year players slip through the cracks – we help put your name back on the top of that list of names. Your performance at the hockey showcase ensures it remains th